Slave Revolt Radio: Negroes quit playing, The problem with Cynthia McKinney
Download audio: MP3 at 41.0 mebibytes (download torrent)
If one were to glide through the Sudan, Congo, Haiti, New Orleans, and the rest of Sam's plantation one would notice the same thing. Black folks are being exterminated in a cold calculated way by our enemies.

Some of the question we need to start asking ourselves is how should we respond. Have the 'protest' tactics worked?. If we don't have the right to live do the people who are involved in these campaigns have a right to live?. In a (Ruins of Empire) piece called 'Negroes quit playing' Slave Revolt deal with this topic head on.

Then in a (Beyond the shadow) segment called 'The problem with Cynthia McKinney' we deal with why the State hates one it's own Representative in Congress. Why the corporate media loves to bash her. And why Rumsfeld bumbles in her company. Outlining that in this late stage of a degenerated capitalism order independent questions by one of their own can't be tolerated.

Tonight's show includes background music from Ali Farka Toure.

---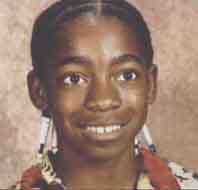 Martin Lee Anderson
1992-2006
Bay County, Florida Medical Examiner Dr. Charles Siebert's characterization of Martin Lee Anderson's death as the end result of a "cascade of events," implies inadvertency. It paints a vague, non-judgmental picture of events that (in Dr. Siebert's view, apparently) no one could have foreseen or halted once the process started, and now we must accept this unfortunate accident with a tear and a sigh, and move on.

Accident or no accident?

If you see 6 or 7 vultures gathered in one place, at one time, doing one thing, you can be fairly certain that their activity and its outcome aren't accidental. I offer this imperfect analogy with my sincere apology to vultures, who, after all, perform a useful and necessary function in the scheme of things. The same can't be said for teen boot camps.

The video shown here gives a candid view of boot camp activity: the goading, taunting, being marshaled about, and more. Those push-ups and track work aren't fitness training by any stretch of the definition. What happens at boot camp has a very different purpose. And if you're a newly-arrived, lanky black kid who plays high school basketball and wears a fancy hairdo, you'd better watch your step. The vultures began making plans for you the moment you came through the gate. Get prepared to run until you drop, or they just might drop you. Toward the end of the video, we see it happen. We see a 14-year-old's last conscious moments in this life.

Jordan Riak, April 5, 2006

VIDEO: Life in a Florida boot camp and the death of Martin Lee Anderson WARNING: This 8-minute video clip showing the fatal beating of a teenager may be deeply disturbing to some viewers. Do not play it if children are present. Allow download time.

IN THE NEWS